One tongue, two languages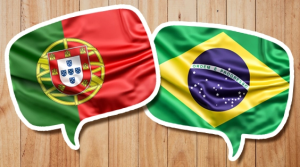 It is known that due to the long period in which Brazil was under Portuguese ruling, these countries share the same language: Portuguese.
Nevertheless, this language contains unique specificities. For example, it is said to be one of the only languages in the world to have words that cannot be translated, the most famous of which being "saudade". This word means melancholic or nostalgic longing for a person, place or things, which are far away, either in space or in time. Other interesting words would be "desbundar" and "desrascanço".
Sticking to the word "saudade", its meaning reveals something so lacking in the world in which we live: empathy, love of your neighbour, bonds of solidarity, of coexistence that are so necessary and humanise us.
There are words that can get people in trouble if they are employed in the wrong country. For example, the word "rapariga": in Portugal, it means "girl", in Brazil means "prostitute".
In Portugal, "Durex" is a brand of condom while in Brazil this word is used to refer to "adhesive tape".
The same happens with "puto", a derogatory word for "boy" in Portugal while, in Brazil, it can mean "homosexual man", "bastard", "angry person" or even "money".
There are also other words that do not put us "in hot water" (or in embarrassing or troubling situations), but that have different meanings. For example, "chávena/xícara" (cup), "foguetão/foguete" (rocket); "baliza/meta" (goal) and "comboio/trem" (train).
Specially in the world of translation, one of the main difficulties was not to understand false cognates, but rather to understand what people were actually saying because of the accents. During university conferences and lectures, particularly in the north of the country, it is often difficult to understand which words are being pronounced. The same happens with transcriptions in which, at first, there are certain difficulties in understanding what is being said.
If we consider the legal field, beyond linguistic differences – "burla" in Portugal and "estelionato" in Brazil (fraude), "Tribunal de Relação" in Portugal and "Tribunal de Justiça" in Brazil (Court of Appeal), "Oficioso" in Portugal and "Defensor dativo" in Brazil (Court-appointed lawyer), "Absolvição de instância" in Portugal and "extinção sem resolução do mérito" in Brazil (acquittal) or even "arguido" in Portugal and "acusado" in Brazil (defendant), among others – what most distinguishes the procedures and customs of these countries is the possibility of lawyers carrying out notarial activities, that is, legal certification of documents and signatures, translations and even legal photocopy of documents. In Brazil, these activities can only be carried out by notaries.
Thus, despite being countries with a shared history, culture and idiomatic traits, there are so many other linguistic, behavioural and civilizational distinctions that greatly enrich and ennoble these two countries that know how to give a warm welcome to people, celebrating and enjoying life. I feel welcomed and accepted in this rich and generous country, both personally and professionally.
Henrique Silva, Lawyer